compass-travels / on-the-charts / previous-trips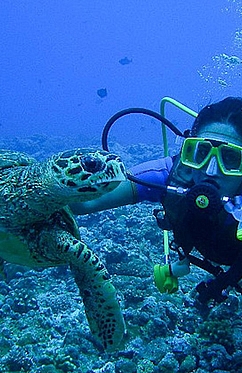 Andaman & Nicobar Islands
NO DEADLINES. NO E-MAILS. NO BOSS.
AT A COUPLE OF FEET UNDERWATER, IT'S A DIFFERENT KIND OF PRESSURE.

Whether you're the sassy go-getter, the shy girl next door, the wild party animal or the complete diva - It's time to celebrate being a woman in an entirely different way. Get out those swimsuits, as we turn amphibious for 8 days in March to celebrate International Woman's! You will train for the PADI Open Water Diver course and explore the beautiful Andaman & Nicobar Islands with a bunch of like-minded ladies who want nothing more than to have the time of their lives. Surrender yourself completely to the underwater world with its kaleidoscope of colors, pristine reefs and a mind-boggling array of marine life. When you're not swimming alongside enormous Manta Rays, relax on a hammock, sun bathe on the beautiful beaches or just watch in awe the turtles and swimming elephants that have made the island their home. Let's go ladies - adventure beckons!

Destination: Andaman & Nicobar Islands
Duration: 7 nights – 8 days
Departure Date: 8th March 2013
Start/ End: Port Blair
Activity Level: Moderate
Max group size: 14
Minimum group size: 10
Best season: October to May
Comments: Only for Ladies.